Message from the President of the Society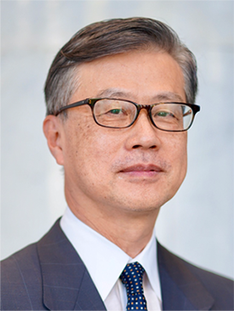 "Jaw deformity" is a disease in which the upper and lower jaws are overstretched, or small, and/or bent sideways, causing malocclusion of teeth and deform of face. In such a condition, patients are not be able to chew well, and have various problems such as jaw pain and difficulty in spoken language. In addition, there are many patients who have been worried alone for a long time as a complex called "long chin" or "no chin".
However, in recent years it is now possible to safely treat and improve such patients by combining orthodontic treatment and orthognathic surgery.
For patients suffering from a disease "jaw deformity", our academic society gathers many experts from related specialized fields and works to elucidate the pathophysiology and causes of the disease and to advance and develop its treatment.
The treatment of Jaw deformity is a team treatment that brings together the knowledge and skills of many specialists. In order to establish safe, reliable, effective and efficient treatment methods, it is important to steadily advance medical technology and treatment system in each specialized field, and other specialties. It is also important to correctly understand and acquire the knowledge of the field. To solve this problem, we are working on basic and clinical research to treat jaw deformities.
The goal of our academic society is to contribute to the promotion of medical welfare of the people by conducting academic research and educational dissemination activities on "jaw deformity" to raise the medical standard and develop next-generation human resources.
Therefore, in this society, we are actively engaged in activities below.
Hold an academic annual meeting to present research on jaw deformities
Regular publication of academic journals on jaw deformities
Dissemination and enlightenment of knowledge about jaw deformities through websites, etc.
Collaboration with domestic and oversee organizations related to jaw deformity
The Japanese Society for Jaw Deformities (JSJD) was established in January 1991 with Professor Tadahiko Iizuka, Honorary Professor of Kyoto University, as the chairman, with the Jaw Deformity Study Group starting in 1982. After that, Professor Chikara Saito, former Professor of Niigata University and former visiting professor of Tokyo Dental College, Professor Junichiro Iida, Professor of Hokkaido University, and Professor Masaharu Kobayashi, Professor of Niigata University, took over as president of the society. Furthermore, the Society became Japan NPO in July 2005, and the total number of members currently exceeds 2000, mainly for orthodontists and oral surgeons.
This society has a responsibility as a specialized society that contributes to the progress of treatments for patients suffering from jaw deformity, based on the daily efforts of each members. We would like to achieve them.
Thank you for your support.
Masayuki Takano,
President of the Japanese Society for Jaw Deformities,
Professor of Oral and Maxillofacial Surgery, Tokyo Dental College